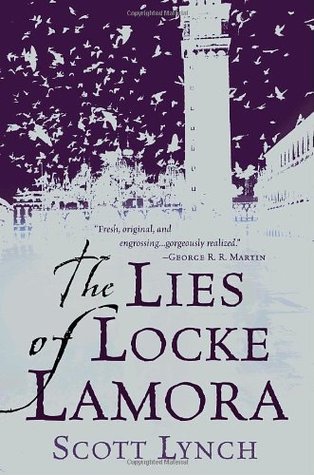 (3.5)
Maybe I was expecting more out of this? It was a great read and I absolutely loved about 75% of the book, but the ending just kind of ruined it for me and there was no awesome cliffhanger to make you keep going with the series.
Let me start with the majority of what I liked.
The characters were just straight up fantastic. If you don't want to be a Gentlemen Bastard after reading this, you're either crazy or just have ridiculously high morals. The banter between the twins, Bug, Jean, & Locke was great; they're like their own little twisted family of thieves. I can see how Locke will be most peoples' favorites, but I loved Jean. All the characters were nicely flawed in a way that made them perfectly loveable.
The way the book was written has chapters in the present with "Interludes" of things in the past in between. I saw that most people didn't like this, as it interrupted the action packed present, but I actually liked it. I felt like it was a good pacing method. If it was not written like that, there would have been a lot of boring shit in the beginning and then all of the action happening way too fast later on, so I thought that the breaks in the past were nice. Plus I loved chains and reading about the bastards' training was pretty cool.
I loved reading about the heist. Thieves are a common occurrence in the fantasy novels I've been reading lately, but nothing as detailed or brilliant as what these guys pull.
Once it went from thieving to a bigger scheme and different enemies, it got a bit convoluted and lost my interest. I didn't care about the 'villain', I was more interested in the spider. The spider aspect was cool; secret society of spies and all that would have been fine on its own trying to track down the Thorn of Camorr, but add that to the gray king and it was just too much. The falconer/bondsmage was super interesting and I would have loved reading more about him and less about the king/capa. I just didn't FEEL his evilness or need for vengeance, and Locke working together with the spider and people he just robbed to save the day seemed like a weak James Bond-ish plot to me. I didn't want a mission impossible rescue mission, I wanted the thieves I was reading about to do what they do best: STEAL. Hopefully the next book gets more of that action.